Community Service Project
OSO is a free program, but each group that participates is required to do a community service project to earn their trip. Community service is very important to us at OSO, and we are proud of the work that our students have accomplished over the years.
The community service project does not need to be completed before the OSO program date, but must be completed in the school year that the students participate in the OSO program. Applications without community service proposals will not be considered.
You are welcome to come up with your own creative community service project.
Some Great Community Service Project Ideas
School recycling programs
Lunch waste composting programs
Beach/Creek clean ups
Native plant restoration
Pollution awareness programs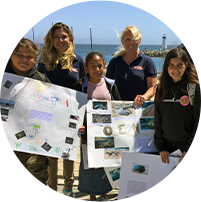 Letter writing campaign for environmental causes
Gardens for the homeless
Storm drain stenciling
School campus beautification
Community environmental awareness projects
Here are some links to some wonderful non-profit organizations that OSO groups have worked with in the past to complete their service projects. Or look for a non-profit in your own community that needs volunteers!
Coastal Clean-up Day
www.coastal.ca.gov/publiced/ccd/ccd.html
California State Parks
www.parks.ca.gov/
The Homeless Garden Project
www.homelessgardenproject.org/index.php
Monterey Bay National Marine Sanctuary
www.montereybay.noaa.gov/educate/volunteer/welcome.html
Monterey Bay Salmon and Trout Restoration Project
www.mbstp.org/
Santa Cruz Museum of Natural History
www.santacruzmuseums.org/index.htm
Santa Cruz Volunteer Center http://www.scvolunteercenter.com/
Save Our Shores http://saveourshores.org/
Shared Adventures http://www.sharedadventures.org/index.htm
Surfrider Foundation http://www.surfridersantacruz.org/
The Last Plastic Straw http://thelastplasticstraw.org
Watsonville Wetlands Watch http://www.watsonvillewetlandswatch.org/index.html
Community Service Project Report
Once you've completed your Community Service Project, please let us know more about your project by completing the form below. Completion of this form lets us know that you completed your service project and ensures eligibility for the OSO program in upcoming years.