Tim O'Neill, Skipper

Tim has been a surfer and sailor for most of his life, learning to surf and sail at age five. Tim graduated from Soquel High School, and worked at the O'Neill surf shop both during and after his years at Soquel High. Tim started running the Team O'Neill catamaran when it was launched in 1983 and received his 100 ton skipper's license in 1992. Tim also serves as President of Team O'Neill, is the Board President of O'Neill Sea Odyssey, and oversees the Team O'Neill fleet of ocean-going vessels. He lives in Santa Cruz with his wife Lisa O'Neill, his sons Riley and Connor, and daughter Bridget.
Mike Egan, Skipper
Born and raised in Fresno, California, Mike's connection to the ocean began while spending time at his family's summer home in Santa Cruz. He has lived on the Central Coast since 1982. Mike attended Bullard High in Fresno, and Orange Coast College near Newport Beach, California, where he raced sailboats. Mike worked for O'Neill Yacht Center for five years, holds a 100 ton skippers license, and has been skipper of the Team O'Neill Catamaran for 27 years. He is married to his wife Jill and has two grown children, Ashley and Zachary. An avid fitness enthusiast, Mike runs marathons and participates in Spartan races in his free time.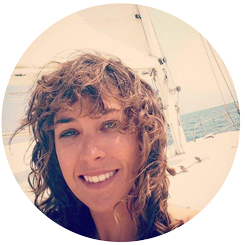 Darci Shea, Skipper
Darci Bogdan was born in Santa Cruz, CA, was raised on a sailboat, and as a teenager, sailed from the west to the east coast of the United States. This upbringing inspired her to pursue a maritime career and she has been working as a captain for a little over a decade. Not only does Darci have a passion for captaining boats, but she also has a degree in Illustration from Savannah College of Art and Design and creates handmade cloisonné jewelry inspired by nature and conservation.
Tracey Weiss, Executive Director
Tracey Weiss is a non-profit Executive Director with 16+ years of experience in environmental education. She uses her passion for environmental education to inspire and engage youth and their adults to take stewardship of California's natural world. Tracey excels in executive leadership, grant management, fund development, strategic vision and engagement, Board management, and developing pathways to better engage students in environmental education.
Working on a regional and statewide scale, Tracey possesses in-depth knowledge and experience in leading both the complex day-to-day operations of an organization as well as guiding its vision, growth, and financial reserves. Tracey currently is affiliated with the California Association for Environmental and Outdoor Education (AEOE) network, and California Marine Sanctuary Foundation. Tracey is thrilled to join the O'Neill Sea Odyssey team and looks forward to getting out on the water and seeing the joy on the faces of the participating students.
Abby Newman, Program Manager
Abby Newman started at O'Neill Sea Odyssey (OSO) in 2015 as an Instructor/Deckhand and transitioned into the Program Manager role in 2021. She was drawn to the OSO program for the opportunity to engage and motivate the next generation of ocean stewards to make conscious choices on land that affect our health and oceans. Abby has received two master's degrees in Marine Biodiversity and Conservation from the Scripps Institution of Oceanography at the University of California, San Diego, and Social Work from San Jose State University. Abby's background in environmental justice and advocacy, policy development, and climate resiliency has forged a career path of fighting for healthy communities.
Liz Murphy, Finance Manager
Liz arrived at OSO after working as a deckhand on the Team O'Neill catamaran. She is an avid sailor and in the middle of a journey to learn all things boats. She's passionate about the stewardship of the land and the ocean. She has a BA in literature from UCSC and a professional background in HR, finance, and development.
Riley Chapman, Office Assistant
Lake Tahoe native Riley Chapman brings a deep passion for Mother Earth and a love of the great outdoors. With degrees in Legal Studies and Spanish from Chico State University, she studied abroad in Spain, and also earned minors in Ethics, Justice and Policy and Environmental Studies. Riley is an avid soccer player, skier and is learning to surf. She works to engage youth in education and environmental advocacy and is thrilled to be part of the O'Neill Sea Odyssey team to help foster future ocean stewards in protecting our natural environment.
Joey Rodrigues, Senior Deckhand / Instructor
Joey was born and raised in central California. He holds a B.S. in Kinesiology from California State University Monterey Bay with a subdiscipline in outdoor recreation, education and administration. He is an American Canoe Association certified Level 4 Coastal Kayaking Skill Instructor and has over a decade of professional water experience. His connection to the sea was cultivated at a young age, inspiring Joey to pursue a life as involved with the ocean as possible. His infatuation with the sea has led him to introduce and educate the general public about the wonders that have molded his personal connection with our mother ocean. Joey currently resides in Moss Landing on his sailboat with his dog-friend Merle and is excited to be a part of O'Neill Sea Odyssey.
Breanne Hunt, Instructor/Senior Deckhand
Breanne is a lover of all things ocean-related; when not working on boats she can be found surfing, kayaking, swimming, or just relaxing on the local Santa Cruz beaches. Breanne holds a 100-ton Masters Captains' license and has an Able Body Special endorsement with the USCG. Growing up on the water, she has made a career of working on a variety of boats in Alaska, the Pacific Northwest, Baja, Costa Rica, Panama, and Belize. From heaving lines in the Panama Canal to kayaking glacial fjords, or assisting in leading tours in Magdalena Bay for the annual Gray Whale migration, Breanne has always encouraged people to explore the oceans and waterways around them. She is beyond excited to join the O'Neill Sea Odyssey program and share her love and knowledge of the ocean with a new generation of ocean explorers!
Sofia Malinovsky, Instructor/Senior Deckhand
Sofia was raised in the bay area and came to Santa Cruz for college where she obtained a degree in Marine Biology. During her time at UCSC she joined the UCSC sailing team and began scuba diving, working up from a basic open water certification up to scientific diver. Sofia's experience with kids stems from a background of coaching youth swim teams and working as a camp counselor. In her free time, she enjoys any ocean-related activity as well as climbing and playing music.
Jennifer Abbott, Instructor/Deckhand
Jennifer is honored to be living out her childhood dream as a marine biologist. In addition to working as a Marine Science Instructor for O'Neill Sea Odyssey, she is an active whale watching naturalist/deckhand and a whale entanglement rescue responder with 10+ years of experience as a steward working on many conservation projects in the Monterey Bay National Marine Sanctuary. Recently retiring from her State Park Ranger career, she is now focused and committed to using her B.S. Marine Biology degree to continue Jack O'Neill's mission to educate our children that our ocean is alive and mentoring them to understand how they can play a significant role in taking care of our ocean.
Emily Casaretto, Instructor/Deckhand
Emily is from the Bay Area and attended a marine science magnet school as a kid. She grew up coming to the Santa Cruz beaches in the summer and duck hunting with her father in the San Francisco Bay. She is a Level 2 Coastal Kayaking Instructor with the American Canoe Association and previously spent winters teaching water sports at an eco-resort in Belize. Emily holds a master's degree in Marine Affairs from the University of Washington, where she wrote her thesis on ocean literacy and inclusion in marine science education. She currently volunteers as a school programs instructor at the Seymour Marine Discovery Center and is endlessly fascinated with everything about the ocean. She lives in Santa Cruz with her dog Arrow, who is afraid of waves and loves eating kelp.
Chanel Robles, Instructor/Deckhand
Chanel received a Bachelor of Science degree in Biology and a Masters in Education from UCSC. She spent five years teaching science in Santa Cruz County before attending Scripps Institution of Oceanography, where she received her master's degree in Marine Biodiversity and Conservation. Chanel is passionate about environmental stewardship and is excited to be joining the O'Neill Sea Odyssey program. She enjoys going on walks, tide-pooling, and snorkeling. 
Jessica Gallione, Instructor/Deckhand
Jessica loves exploring the natural world.  Always curious, she wants to know all about what she is seeing and enjoys sharing what she has learned with others.  Jessica holds the ocean in awe and is passionate about healthy seas and watersheds.   She feels fortunate to work on the Sea Odyssey to spread this message.  She is a proud mother to two adventurous daughters.